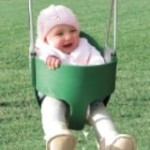 Full Bucket Toddler = $119
The 360 degree design swing accessory completely envelops the child for maximum security and safety. This is commercial playground grade swing as it has a "spring steel" insert.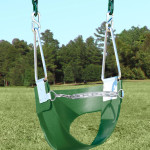 Belted Toddler Swing = $89
Provides extra support for children who have outgrown their infant swing, but aren't quite ready for a Sling Swing.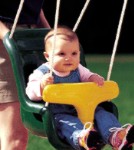 Molded Infant Swing = $69
This swing is recognized as being the #1 Infant Swing available. The extended back gives the smallest swinger a secure feeling for his or her first "swinging" experience. This swing attachment is intentionally short for an easy "push" for the parent.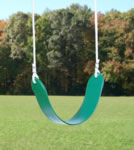 Belted Swing = $39
This flexible polymer swing molds to the child for comfort and security. Upper body, arm and foot weight control are required to propel the swing through the air. Available in chain = $59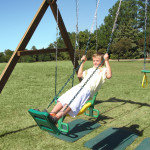 Stand N' Swing = $69
The Stand 'N Swing requires balance, coordination and strength to operate. Available in rope or chain. Not recommended for children under the age of 4 & over.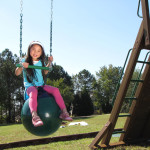 Buoy Ball Swing = $119
A creative way to swing that stimulates the imagination as well as develops body strength.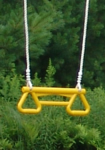 Trapeze Bar Rope = $39
A creative way to swing that stimulates the imagination as well as develops body strength. Chain = $59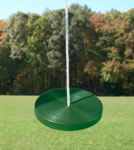 Disc Swing = $35
This swing allows children to rotate while swinging to-and-fro. Cannot be used with other swinging accessories on a swing beam or top ladder. Must be installed as a single bay item. Available in rope only.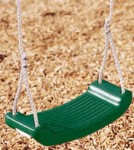 Molded Swing = $35
A different style of swing seat that allows an adult to sit or swing more comfortably while supervising the children.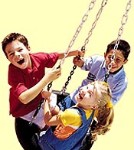 Tire Swing w/Swivel = $179
Just like Dad used to make, this tire swing is made for hours of fun.

Steering Wheel = $35
Children expand thier young minds through the development of their imagination. The Steering Wheel takes them to places "unknown."

Telescope = $35
The telescope is another creative accessory that helps to stimulate a young child's mind. If she looks long enough, who knows what distant visions she will see!  Your wooden swing set is designed not only for kids exercise, but also to help them grow emotionally and intellectually as well.

Periscope = $35
What better way to develop the imagination than to use a Periscope. This great toy has a reflector mirror that is "shatter-proof". The Periscope can be mounted onto any wooden swing set which has a Gym / Play Deck.  Hours of swing set fun for the youngsters.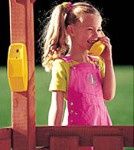 Play Phone = $35
This role-playing accessory can be mounted onto any of the Swing Sets to stimulate the imagination of young children.

Binoculars = $45
Kids can discover and explore new worlds with these jumbo imaginative Binoculars.

Ship's Wheel = $45
Ahoy mates! Let your child chart a course and begin an exciting journey through the sea to discover new lands with this sturdy Ship's Wheel.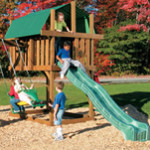 10′ Wave Slide = $159
The "wave" on this swing set slide makes for additional sliding fun.  Fits most wooden swing sets,
Availabel in Green or Yellow. 8′ = $129... specail = $99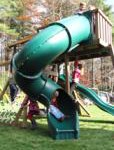 Spiral "Tube" Slide = $799
This fun Accessory is designed to mount to almost any 7′ platform height! Have Fun!